Be mesmerised by a natural environment carefully crafted by man, and live unique moments of discovery along one of the most beautiful rivers in the world, among very rich farms and extensive vineyards arranged in terraces.
From Douro one of the best wines – Port Wine – travels to houses all over the world.
We recommend you the best combination to travel into the heart of Douro. A cruise and a train, each one at its own pace, will take you to a world full of beauty and uniqueness, adventure and romance.
Sailing cradles the soul
To make your first contact with the river Douro, you can navigate between the banks on a romantic sailboat at sunset, on a luxurious yacht, or even on a Rabelo boat, which takes you through the vivid stories from the past (it was these boats that transported the wooden barrels in which the distinguished wine was stored).
However, there are more alternatives, and one of these is a whole day on the river on a tourist cruise, with a traditional lunch and snacks included, views of the farms, tasting in cellars and even a chance to take part in the grape harvest. There are companies that organise river cruises and other programmes on the Douro with which you can even book a night on board.
The river boasts a landscape full of grandeur and diversity, with differences in water levels of up to 35m, surmountable through locks (outdoor lifts that raise or lower several boats at a time). Examples include Crestuma-Lever dam, Bagaúste (in Peso da Régua) and Carrapatelo. All around are flowers and grapes that provide the natural setting with colour; there are boats and trains to transport people, and many stories to tell.
Régua, Pinhão and Tua by train
If travelling by land, between June and October, we suggest that you take the historic train, restored to its old glory and animated at full steam. This takes you to three famous destinations in Douro, departing from Peso da Régua and returning to the same city three hours later.
Indulge in local foods/sweets and always have some Régua candy close at hand. Notice how crafts are representative of the region, with miniature boats that draw attention to the past that helped to make this into such a magnificent region. During your trip, you will pass through Pinhão, where the tiles that adorn the train station, depicting Port Wine, demand that you stop and take a look. And the journey continues along the river to Tua, enlivened by the region's traditional music and toasted with a glass of port.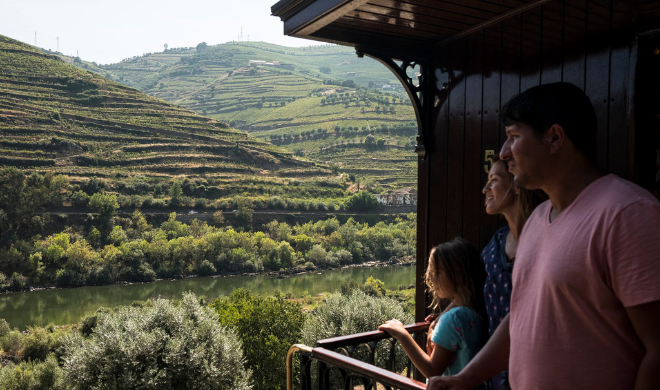 Be part of the landscape
Produced since the Roman occupation, Port Wine came to be inserted into the first region to be demarcated and regulated in the world in 1756, called the Alto Douro Wine Region. It comprises 250,000 hectares, of which 32,000 are suitable for producing coloured port wine. Port Wines can be split into two categories, depending on the type of ageing: tawny and ruby, and when bottled are ready to be consumed. It is advisable to take Tawny wines with an indication of age and harvest.
They were men and women who worked hard on this tortuous terrain, putting their willpower at the service of the whole world. And, since 2001, this work has been reflected in a unique landscape, admired by all and classified as a World Heritage Site by UNESCO.
The wine is the result of diverse processes, and the most physical work it demands is that of the grape pickers. Between August and October, the bunches are cut and the grapes picked, these coming from 100 different varieties. Scissors and a bucket are required, together with strong hands and arms, as well as a lot of joy to carry the future nectar to the winery. The ritual is extensive, and the experience provided by taking part in this grape harvesting and processing time is unforgettable, stretching back into the distant past but still alive today.
The older the better!
Some decades hence (if four or five, the more flavoursome they will be), remember that the result of the grape harvest that you took part in will be at the peak of its quality. The wine, after being stored for long periods of time in the long, dark corridors of the cellars in oak barrels and vats, or glass bottles laid on their sides, will age and gain quality, say the experienced winemakers in the Port Wine cellars, who are always available to receive you for a tasting session.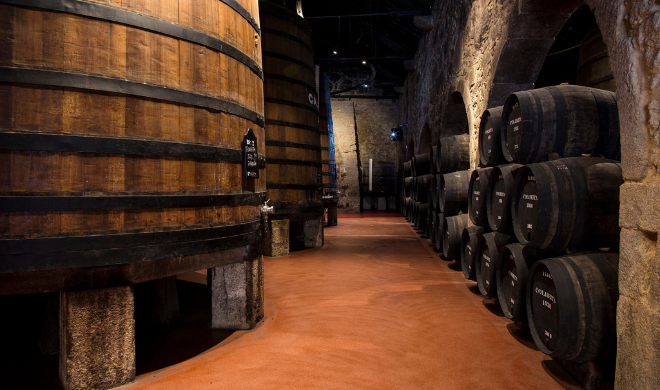 You are always welcome to discover the best of each destination, and we are here to dazzle you. If you need any help with organizing your visit or with booking an experience, please contact us through LiveChat.
VisitPorto

Last updated 2022-01-27
Planeie a sua viagem
Chegada
Dotada de uma rede de acessibilidades em franca expansão é possível chegar facilmente à cidade de avião, autocarro, automóvel, barco, comboio ou metro.
História
O Porto é um dos destinos turísticos mais antigos da Europa e a riqueza do seu património artístico, o Vinho do Porto, os vastos espaços dedicados ao lazer e a sua vida cultural são apenas alguns dos motivos que convidam a visitar a cidade.
Informação Prática
Aqui encontra alguns dados essenciais sobre o Porto, bem como a referência a vários serviços públicos e privados disponíveis.
Deslocar-se
É fácil deslocar-se nos limites da cidade com recurso aos transportes públicos ou em viatura própria ou alugada.
Tudo o que precisa de saber