Celebrate São João night in Porto like the locals
The year's longest night is almost here, and the city is already in a festive mode. The streets are decorated with multi-coloured bunting, potted basil plants, and cascatas São João (miniature modelled scenarios depicting the São João festivities and other themes) which can be seen at nearly every street corner.
Porto's residents are already preparing for this much desired night of immense joy, when sadness is transformed into smiles and all problems melt away.
Celebrating São João in Porto means being out on the streets because the festivities belong to the people, cobbled streets, plastic hammers, leek flowers, balões (sky lanterns), dancing and the desire to watch the sun rise. Keep in mind that celebrating São João in Porto means walking many kilometres – so get plenty of rest before indulging in this unique outdoor street festival until morning.
If you want to experience the night of São João in the true spirit of an authentic tripeiro (nickname for a Porto resident), here are some tips for an unforgettable night.
The festivities cannot start until you are equipped with a São João plastic hammer, a balão de São João and the "wicked" leek flower. You can find hammer sellers on the street at almost every ten metres. There are plenty of vendors with tables piled with hammers, basil plants and leek flowers. These sellers can be found in greater abundance at Praça da República, Avenida dos Aliados, Praça da Batalha, São Bento and at the riverside area called Praça da Ribeira.
24h of party
You'll need to get energised to endure the festivities. Grilled sardines and peppers with broa (cornbread) are the main attraction. Optionally, there are also small steaks called "fêveras". Whatever you order, it will taste better with generous servings of Portuguese wine – particularly Douro or Vinho Verde wines.
If you wish, you can also have dinner at places such as Caldeireiros or Fontaínhas, where you'll notice that all restaurants will have a barbecue on the street ready to prepare the day's typical dishes.
Now with a "full belly", enjoy the concert by Toy and José Malhoa at Largo do Amor de Perdição, at 10pm.
Embark on an adventure through the narrow streets, in search of the ideal place from which to watch the fireworks that light up the sky every year, launched from boats anchored on the Douro River. The Cathedral or Praça da Ribeira and also Gaia, on the other side of the river, are all good choices. Go early on foot to choose an ideal location. The fireworks start exactly at midnight!
While waiting for the fireworks, but WITHOUT despairing, take the opportunity to experience the spirit of this festivity to the fullest. After dark, release your balão de São João. If you're not very experienced, ask a passer-by to help you, there's always someone willing to help you get your balão flying high and lighting up the city sky. You'll see many sky paper lantern sellers, many of whom also sell potted basil plants, plastic hammers and leek flowers.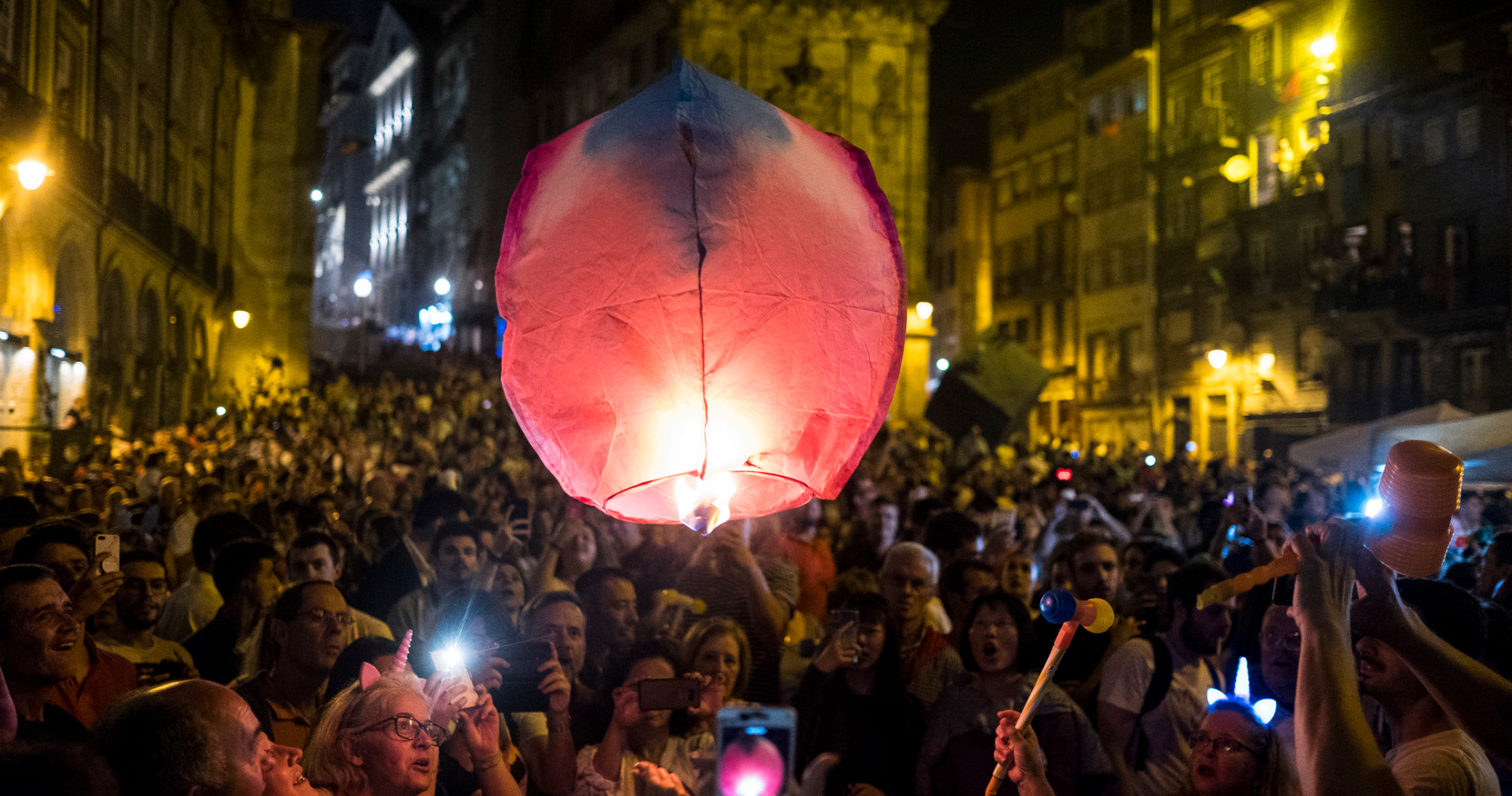 If your legs are still up to it take a detour to Porto's hip nightlife area. Cedofeita and Galerias de Paris are always throbbing with life, and this night is no exception. From here, the city comes alive with places where dancing is the main attraction! The Guindalense, is a must visit with its incredible view of the whole party. Let the music penetrate your soul while you savour a glass of wine.
When you feel it's time to try another dancing spot, head to the funicular tram called Funicular dos Guindais – get a 25% ticket discount using a Porto Card – and go down to the riverside area called Ribeira. Walk along the riverside road until Alfândega do Porto and, once there, next to the Miragaia arches, you'll find another dancing place, very typical of São João. Once again, the rule is to dance without a care in the world. But don't forget to get energised again; you'll need to eat if you're going to last until morning. At this time of night, we suggest a delicious kale soup called caldo verde and perhaps a fêvera sandwich.
Tradition has it that meandering from dancing spot to dancing spot is what these festivities are all about. And you can still meander from Nevogilde to Foz, where you'll watch the sunrise! Walk to one of the beaches where, finally, you'll watch the amazing daily show: the sun that rises every morning. We also suggest that you have breakfast somewhere nearby...
Only after returning home – already during the morning - will you be allowed to rest. But set the alarm clock! The party only comes to an end on 24 June and until then you can watch the Rabelo Boat Regatta on the River Douro.​
This will be a night to be remembered for life, one of those moments we cherish and tell our children and grandchildren hoping that someday they will also experience such a happy São João as we did. Don't be sad. Take the smile of this night with you for the next 365 days.
We'll be here next year, waiting for you!​
VisitPorto

Last updated 2022-12-06
Planeie a sua viagem
Chegada
Dotada de uma rede de acessibilidades em franca expansão é possível chegar facilmente à cidade de avião, autocarro, automóvel, barco, comboio ou metro.
História
O Porto é um dos destinos turísticos mais antigos da Europa e a riqueza do seu património artístico, o Vinho do Porto, os vastos espaços dedicados ao lazer e a sua vida cultural são apenas alguns dos motivos que convidam a visitar a cidade.
Informação Prática
Aqui encontra alguns dados essenciais sobre o Porto, bem como a referência a vários serviços públicos e privados disponíveis.
Deslocar-se
É fácil deslocar-se nos limites da cidade com recurso aos transportes públicos ou em viatura própria ou alugada.
Tudo o que precisa de saber