In this special season, we decided to invite a Brazilian influencer, who lives in Porto, to explore the city with us and spend a different... day!
We went looking for the best ingredients for Christmas dinner with Ione Omena. For those who don't know her, Ione was born in Maceió and came to Porto at the age of 21 to complete her degree in Architecture. In addition to being an architect, she is a blogger, fashion consultant, Porto Canal presenter and mother. She says she is in love with Porto and that she can no longer imagine her life outside Portugal.
The Best Ingredients for Christmas Dinner
Ione loves to shop in traditional stores. According to her, the products are fresher and tastier. So, we planned a day with Ione, to visit some of the local shops in the city centre and, take the opportunity to take a stroll through the historic centre.
The day started with a tram ride to downtown Porto, where she started her shopping at Casa Oriental, a grocery store founded in 1910, which started to sell products from the Eastern and African colonies. Currently, it is Conservas da Murtosa, where you can find about thirty different canned varieties. Ione bought some canned items for snacks and starters, for moments with family or friends.
Even though is not part of the Christmas dinner in Brazil, for Ione the salted cod is a must. So, we continued our itinerary to O Pretinho do Japão, a fine grocery store born in 1947. Here we can find everything that is essential for the Christmas dinner, from dried fruits, to salted cod, wines, liqueurs, spices, teas, dehydrated fruits, Portuguese canned fish, sweets, flour, and biscuits. Ione couldn't resist and asked for freshly ground coffee to enjoy at home.
At Christmas dinner, rabanadas (french toasts), leite creme (crème brûlée), aletria (vermicelli pasta), sponge cake, bolo rei, and lots of deserts are a must. Would you like to make these desserts at home? You can find all the necessary ingredients and much more at Casa Januário. Ione took the opportunity to take dried fruits and, of course, Port Wine, the drink that all locals have on their tables on Christmas Day.
Ione already had most of the ingredients, but there was still time to make a stop at Casa Natal, a century-old grocery store, one of the oldest in the city. Here you will also find salted cod, dried fruits, canned fish and many other ingredients. Do it like Ione and take cheeses, olive oil, some spices and seasonings.
We ended the day dedicated to shopping for Christmas dinner and we realised that Ione's table will be full of Portuguese delicacies.
After so many purchases, we could nibble something, and as we were in the city centre, why not a quick stop to have lunch at the restaurant at Hotel Maison Albar Le Monumental Palace? We took the rest of the day to do some more Christmas shopping and see the Christmas lights on Porto's most iconic avenue, Avenida dos Aliados.
Chatting with Ione
We took advantage of lunch time to get to know Ione better, what she likes most about our city and some of the traditions at this time of year.
It was at the age of 21 that Ione arrived in Porto and since then she realised this was a place she belonged. "It is an authentic place, full of history and charm, cold in winter and warm in summer". She says that the temperature at this time of the year reminds her of Maceió, her homeland.
When she welcomes friends and family, she loves to show them the city: they have Tuk Tuk rides, visit Clérigos Tower, Livraria Lello, Cathedral, Café Majestic, Avenida dos Aliados, Casa da Música and Serralves, where she says it always has incredible exhibits. But she admits that, what she loves most is Palace of Freixo, Palácio da Bolsa and of course, the Faculty of Architecture (FAUP), where she studied for several years.
She confesses that the main differences at this time of year, in comparison with her homeland, is the climate, since there is warm and here it is very cold, and the tradition of eating cod at dinner instead of turkey. On December 24th, she takes a family outing downtown, where she ends up having lunch. She also says that it is a tradition to watch the Christmas lights at Avenida dos Aliados with her family and that Elena, her daughter, loves it!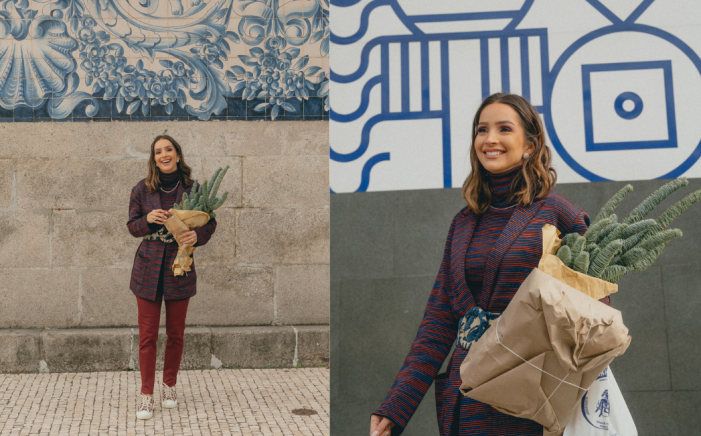 Visit Porto

Last updated 2021-01-12
Planeie a sua viagem
Chegada
Dotada de uma rede de acessibilidades em franca expansão é possível chegar facilmente à cidade de avião, autocarro, automóvel, barco, comboio ou metro.
História
O Porto é um dos destinos turísticos mais antigos da Europa e a riqueza do seu património artístico, o Vinho do Porto, os vastos espaços dedicados ao lazer e a sua vida cultural são apenas alguns dos motivos que convidam a visitar a cidade.
Informação Prática
Aqui encontra alguns dados essenciais sobre o Porto, bem como a referência a vários serviços públicos e privados disponíveis.
Deslocar-se
É fácil deslocar-se nos limites da cidade com recurso aos transportes públicos ou em viatura própria ou alugada.
Tudo o que precisa de saber